Expect a fresh new taste from
the Tennessee Club Scene

Four seasoned musicians serving up original music that's unpretentious, straight forward, a bit sophisticated, but always fresh. The Rhythm Brewers know how to open a barrel of fun and make the audience enjoy themselves.

New twists on old rock and blues with a folksy aftertaste. If you like a good brew, you'll enjoy listening to these four seasoned musicians.

The Brewers are: Joe Martin, Lonny Finnley,
Jeff Dean and Marion Dunn.

The Rhythm Brewers performance at the Unicoi, TN 4th of July Celebration, captured by
Matthew Byrd with a nice pencil drawing.
Click to view the artwork.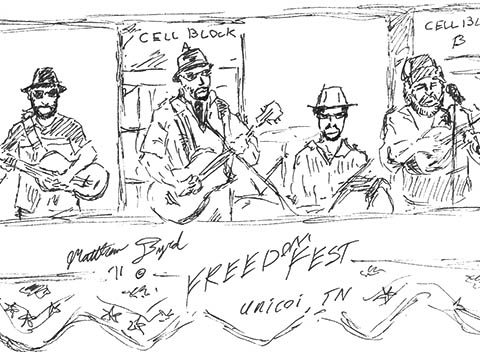 What's Up...


The Rhythm Brewers have spent time away from home, living on junk food while recording their first CD at AMR Studios in Asheville, NC.

The CD features 12 mostly original tunes ranging from down-outright melancholy to the deranged. This is so typical for the Brewers and a fine debut to boot. If you don't find this debut CD refreshing, there is something wrong with you and you need help in the musical department. Remember when you first heard the Stones and couldn't figure out what hit you? Same thing here. Who wouldn't love songs about NASCAR, illegal firearms and romance gone awry (Not necessarily in that order).

Check out the music page

Get the CD from CD Baby now.
Next Shows...


Saturday, April 27, 2019, 7 pm
Our House