Expect a fresh new taste from
the Tennessee Club Scene

Four seasoned musicians serving up original music that's unpretentious, straight forward, a bit sophisticated, but always fresh. The Rhythm Brewers know how to open a barrel of fun and make the audience enjoy themselves.

New twists on old rock and blues with a folksy aftertaste. If you like a good brew, you'll enjoy listening to these four seasoned musicians.

The Brewers are: Joe Martin, Lonny Finnley,
Jeff Dean and Marion Dunn.

The Rhythm Brewers performance at the Unicoi, TN 4th of July Celebration, captured by
Matthew Byrd with a nice pencil drawing.
Click to view the artwork.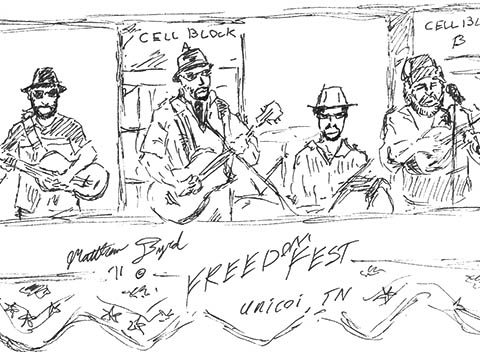 News from the Front!


2020 marks the 10th anniversary of the current edition of the Rhythm Brewers!

To commemorate the anniversay, the Brewers have some exciting shows upcoming for the new year! Be sure to track the band as they celebrate one more year above ground!

Check out the music page

Get the CD from CD Baby now.
Next Shows...


2020 Dates coming soon!